I thought it appropriate to write a post on my personal style icons since we are in the midst of the fashion-week buzz. Almost everywhere I turn I am reading something about yet another show and yet another trend set for the spring and summer next year.
I don't follow trends and I have never really done so. Personally, I see trends as being a kind of persona to hide behind in the need to be deemed 'cool'. I've never been 'cool' in that sense.Yes, I read Elle magazine cover to cover every month, and I follow a great number of 'trendy' fashion blogs online, but I certainly don't take what they say as being gospel. I use them for inspiration - not to copy an entire 'look' so that I am bang on trend and look the same as everybody else who follows fashion trends to the letter. I enjoy incorporating elements of modern fashion alongside my adoration for pieces which may not be in magazine, but are still beautiful to me.
Moving on to what today's post is all about - My Style Icons. Below are three women whose approach to style I truly admire. I do not use them as a template to base myself on when I dress by any means, I use looks of theirs for inspiration and see what I have in my wardrobe to create a look inspired by them. It is also important to note that they are not always a source of visual inspiration but as an inspiration of my attitude towards style, dressing and living.
'For beautiful eyes, look for the good in others; for beautiful lips, speak only words of kindness; and for poise, walk with the knowledge that you are never alone.' Audrey Hepburn.
Audrey Hepburn tends to be on almost every style icon list somewhere. Her beauty was both effortless and natural. Whenever you come across photographs of her when she was off set and not in character her style was always kept clean and simple (although onscreen, this can also be seen). I find myself taking inspiration from Hepburn when I have a busy day planned; capri pants or cigarette legged trousers paired with ballet flats with clean and simple make up and minimal or no jewellery. Her 'less is more' approach to style and dressing makes her style timeless and classic, something which I think most woman would like to be described as. I have always adored Audrey's bold, thick eyebrows. I always add colour to my fair 'brows to thicken them to incorporate a little bit of Audrey in my day to day look.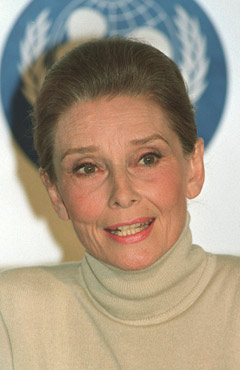 Even as she aged, she was still as elegant and beautiful. The prime example to stay away from plastic surgery. She truly grew old gracefully.
'I advocate glamour. Every day. Every minute.' Dita Von Teese

Dita Von Teese is who I look to for inspiration with regards to glamour. If I am stuck for what to wear and feel that I want to channel my inner pin-up girl, I have a look through photographs of Dita and then work with my wardrobe to create an inspired look. I adore the clean and feminine silhouette that Dita uses her clothes to accentuate so beautifully and this is something which I try to bring into my everyday dressing to include a touch of glamour into everyday dressing.
Her classic red pout and half-moon manicure both creep into my beauty regime on a regular basis. The lips more so than the manicure, but when my nails are done they are done this way. A tip what I read from Dita (I cannot for the life of me remember where but if I do come across the article again I will tweet it) was that with a little bit of powder and red lipstick you can throw on a large pair of sunglasses and you will look completely done - nobody will know that you only have your lipstick on.
I perhaps do not take inspiration from Vivienne Westwood in the same ways that I do Audrey Hepburn and Dita Von Teese, however she does inspire me equally as much in terms of her character and attitude. She always makes her views heard and she definitely uses her public profile to try and do good in this world. I will leave you with three of my favourite quotes of Westwood's;
'I am attracted to people who make this effort in knowing what suits them - they are individual and stylish.'
'Fashion is very important. It is life-enhancing and, like everything that gives pleasure, it is worth doing well.'
'I think it is a good thing to buy less and choose well - it's good for the environment and to be fair it's also good for me because my clothes are quite expensive.'

Who are your style icons?